Toilet paper rolls are such a great resource for recycled crafting, for both adults and children, but unfortunately preschoolers in Australia are not given the opportunity to work with them due to hygiene reasons.
As far as research can tell, other preschools around the world still craft with toilet paper rolls for recycled projects, with no ban apparent on them. What are our thoughts on this? It seems such a pity, when we see crafty roll projects such as:
Recycled Paper Roll Butterflies
as seen on Bo Bunny
Recycled Paper Roll Giraffe
(made by a friend's little boy)
Recycled Paper Roll Monsters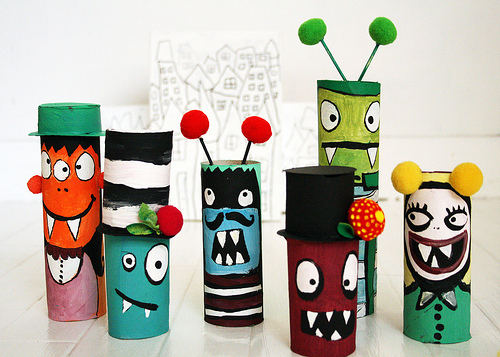 As seen on AlisaBurke
Bird Yule Log Favors
as seen on Martha Stewart
Recycled Paper Roll Spiral Hanging Ornaments
as seen on
Bethany Studios
1. Don't throw out ice cream containers; they make the perfect reusable food storage tubs.
2. Use unwanted magazines, comic's or even newspapers to wrap gifts for your loved ones.
Image found on: Creative Gift Wrap Ideas – Designer Gift Wrap – Country Living
3. Make your own business cards by cutting tissue box cardboard, cereal boxes, damaged books, greetings cards, or even discarded paint sample cards, and stamp with your logo on the blank side.
4. Use small plastic juice or water bottles as ice blocks to keep your lunch cool and fresh.  Simple fill with tap water, freeze, and add to your lunch box.
5. Greeting cards can be reused as gift tags.  Simply cut the front of gift cards to appropriate tag shape, punch a hole and add string/ribbon.
6. Paint soda drink cans white for a simplistic flower vase.
Image c/o EMA
 7. Cut an old t-shirt into strips, stretch out, and use to wrap opened packaged food.
8.  Store your plastic bread bags and reuse for freezing meat or cookie dough in the freezer.
9. Empty roll-on deodorants tubes; fill with sun screen for an easy sun protector applicator that you can carry in your handbag.  Another idea would be to fill roll-on tubes with paint for children's paint pens.
Image c/o LetTheChildrenPlay
Caine Monroy, from East LA, is a 9-year old boy who spent his summer vacation building an elaborate DIY cardboard arcade in his dad's used auto parts store.
Nirvan Mullick visited Caine's arcade, and soon after put together a social media campaign to make this wonderful documentary film, that brings a tear to the eye..
Proof that a little resourcefulness, and a lot of imagination, can go a mighty long way.