Some of you may be aware that Recycled Market's co-founder, Erica, makes her own recycled crafts, which is one of the reasons Recycled Market exists today.
A few weeks ago, Erica participated in Megan Bayliss' Junk Wave workshop in Melbourne, and was taught a technique of handcrafting bags from food packaging.  Here is Erica's completed bag: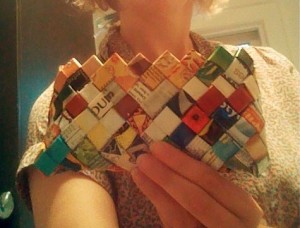 Although Megan can complete a bag within three hours, Erica's bag took the best part of a week to complete. Once a new technique is mastered, of course the completion time will reduce, but this did leave us with a thought, we have the following upcycled food packaging bags for sale on Recycled Market which are really good value for money, considering the time taken to handcraft them.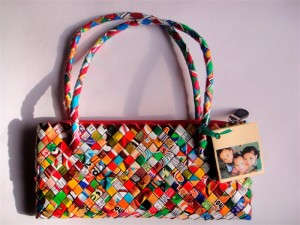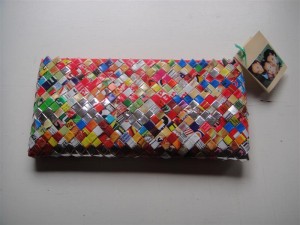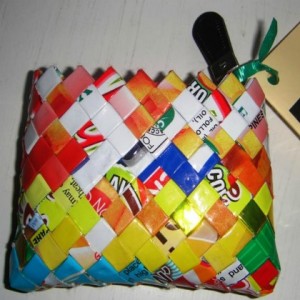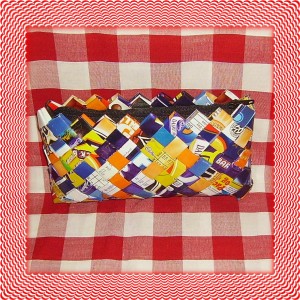 Other upcycled food packaging bags available to buy on Recycled Market include L'air de Rien's milk carton tote bags..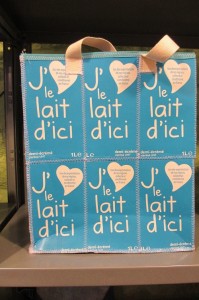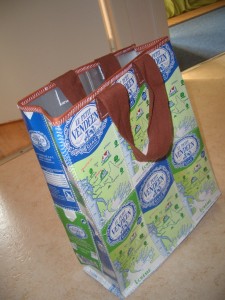 If one raises questions as to the cost of goods made with recycled material, one must also consider the time taken to create the end product.
A lot of time is spent sourcing and cleaning old and used materials, whether that be food packaging, fabric, vinyl, wood, metal or otherwise.  A great deal of time is spent making the end piece, and then there is the additional time-consuming process of presenting the item for sale, which for many artists is the hardest part of all.
Using recycled material may reduce the initial cost of obtaining material, but one must consider the additional factors involved when buying a recycled product.  Recycled products have far greater value for our planet's natural resources than buying a new 'cheaper' product, which may also raise questions as to the (un) ethical conditions with which the product has been made.